You will probably visit our 'Belgium Arise' website after you have received a 'God's Love Letter to you'.  Awesome.  Welcome!  Read on.

Unfortunately many people have a prejudice about God, Jesus, the Bible and eternity without knowing the contents of the Bible.  That is why we heartily recommend that you read the Bible candidly, beginning with the New Testament (the life work of Jesus Christ on earth and the Church in the first century AD).
We would like to recommend some websites and free online courses. Sometimes you are asked to create an account.  Do not worry.  Nobody will misuse your data.
Would you like to order a free New Testament, meet in person, visit a church or Christian bookstore in your area?  Feel free to contact us by mail or WhatsApp, we are happy to help you.

We pray you God's blessing.
4 Steps to Peace with God
Step 1
DISCOVER GOD'S PLAN: PEACE AND LIFE


 God intends for us to live happily and happily here and now. How come most people don't know this real life?
Quote from the Bible: For God's love for the people was so great that he gave his only Son. Anyone who believes in him will not die, but will live forever. (John 3:16)
Step 2
THE PROBLEM: BREAK BETWEEN GOD AND MAN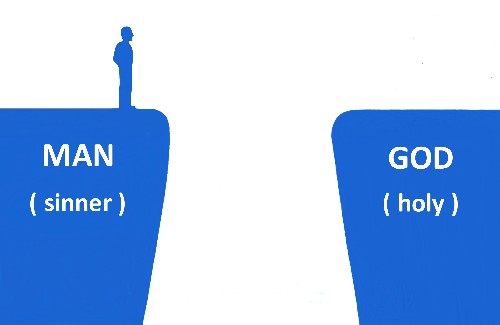 God created man so that he could come into contact with Him. He gave man a surprisingly beautiful life. However, God did not make that man a robot that would automatically love and obey Him.
He gave him the space and the freedom to make his own choices.
However, the first man chose his own way. And all people have unfortunately followed him in this. In this way real life has been lost and an unbridgeable distance has been created between God and man
The Bible says about this: For all people do wrong things. Therefore, no one lives close to God. (Romans 3:23)
Our choice has created a rift between God and man ... 


Step 2
 ( sequel)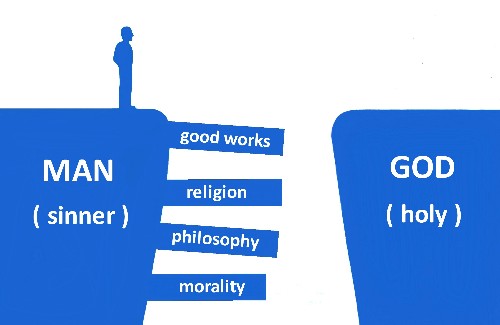 For centuries man has tried in countless ways to bridge the gap that has arisen
Step 3
GOD'S SOLUTION: JESUS CHRIST


Jesus Christ is the only one who can bridge the gap that has arisen between God and us. For this He came to earth, He finally died a cruel death on the cross,
but thus bore the penalty for our sins.  He thus bridged the gap between God and us!
In the Bible it says this: But Christ died for us while we were still living as wicked people. That is proof that God loves us! (Romans 5: 8)
And a bit earlier:
Jesus said, "I am the way. With me is the truth, and with me is life. You can only come to the Father if you believe in me. (John 14: 6)
God Himself provided the ONLY way out. Every person is faced with the choice to go that way or not, to believe that truth or not, to seek that life or not.
Step 4
OUR ANSWER: ACCEPT CHRIST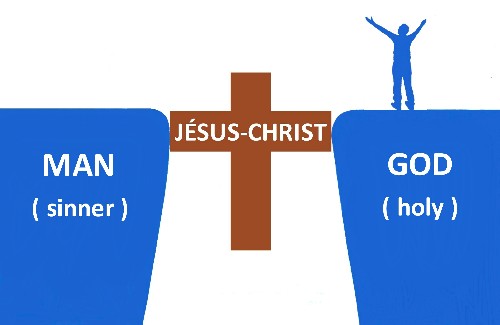 In fact, there are two kinds of people in the world. The one group that lives separately from God with all its consequences.
The other group who, through Jesus Christ, came to know God as their Father.
Who have received forgiveness and can now live happily and relaxed. People who have a purpose and live meaningful lives.
That's what we call believe. We must trust in Jesus Christ and personally accept Him as Lord of our lives. To believe means to trust that what He says is true.